'no feeling', (detail) 2019, leatherette, plastic, various papers, spray paint, acrylic, ink, staples and push pins. 93 x 64 cm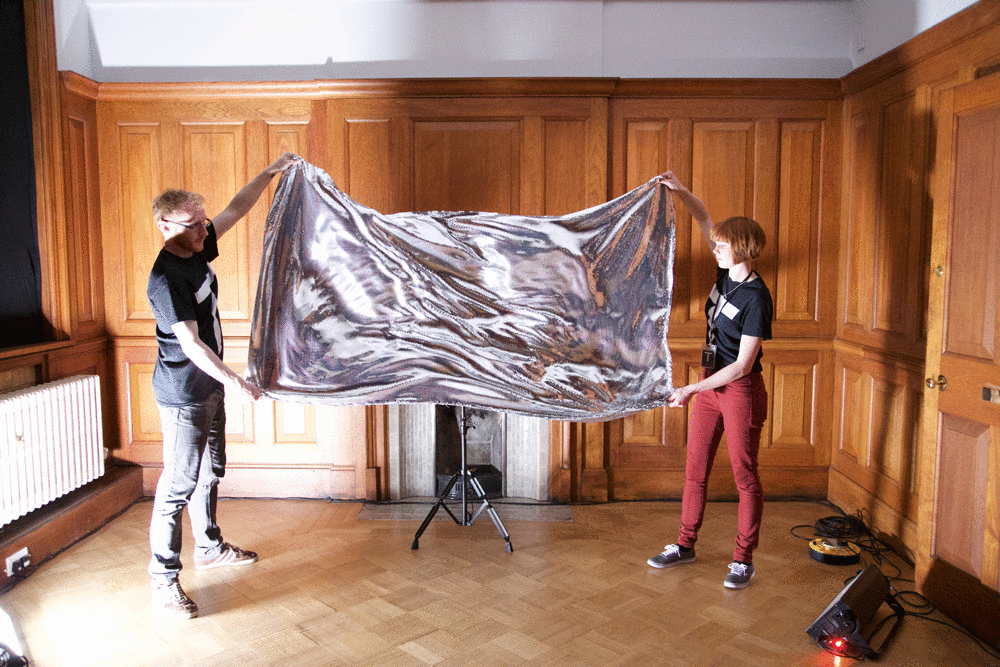 Zumba, 2014-2015, Silver sequinned fabric, strobe lights, laptop with DMX, and two people. Dimensions variable, fabric 140 x 200 cm approx. Duration 30 secs. Performed in Painting in Time, Tetley, Leeds.
Crabstep, 2016, stretched and primed canvas, mixed media and shrink-wrap, 95 x 60 x 12 cm. Audience collaboration taking place in the exhibition Wrapped, for more details click here. Photography by Jules Lister.
Black, 2016, stretched fabric, stretcher bars, mixed media and shrink-wrap plastic, 125 x 99.5 x 5cm. Photography by Jules Lister.
Can't, 2019, leatherette, spray-paint and staples, 30 x 42 cm.
Rainbows (Royal Academy, 2018) performed for the occasion of the opening of the NEW RA Campus.
Rainbows, performed with Beata viscera iridis, an arrangement of Pérotin's Beata viscera for London based choir MUSARC by Piper Haywood and Toby O'Connor.
Rainbows (Paris, 2017) with Beata Viscera Iridis (Performance). Do Disturb, 2017, Palais de Tokyo, Paris. In collaboration with Piper Haywood, Toby O'Connor and London based ensemble MUSARC.
Zumba, 2014-2016. Performed on Drivetime Underground a radio series presented by Neil Luck. Broadcast by Resonance FM 104.4FM and digital in partnership with Sound and Music's Composer-Curator programme. Photography by Dimitri Djuric.
Iris, 2016. A Solo Exhibition at BALTIC 39, Newcastle, part of FIGURE THREE. Photography by Colin Davison, courtesy of BALTIC Centre for Contemporary Art.
Alien, 2014, mirrored plexiglass and aluminum fixtures, 8 x 4ft. Exhibited in Tortoise, 2014, WW Gallery, London. Curated with LeandaKateLouise.
Painting Visors Blue, 2016. Painting visors, acetate, cord and people. Museum of London's Museum of Dark Places with Musarc intervention by Sarah Kate Wilson. Photography by Yannis Katsaris.
Static Dragon, 2012, green screen fabric, domestic fans and timer switches. 4 x 6.5 x 4 m approx.
Why did you tell me that?, 2011, plastic balls and net stretched over canvas with aluminium frame. 104 x 127 cm (approx).